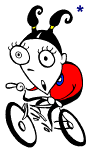 Meet Corinne Whitney
Corinne, studied documentary filmmaking at Columbia College, Chicago, before moving into freelance work in film and video production. She has used her skills to specialize in promotional endeavors for non-profit organizations such as the Illinois Pro-Choice Alliance and the Anti-Defamation League of B'nai B'rith. Combining all her skills and interests, she helped found Eyes Open Productions, a non-profit media company, through which she co-created Women with Voices: the Global Grassroots Women's Movement, a documentary covering tales from the feminist front in various parts of the world. Corinne's interest in political issues and women also led her to the Fourth World Conference on Women Non-Governmental Organization Forum in Beijing, China in 1995. At the time of the BikeAbout-the Mediterranean journey, Corinne had recently been part of the team behind the new Chicago Symphony Orchestra ECHO Project: The CSO A-Musing Room, an inter-active, multi-media introduction to the world of Classical Music. She had been a year-round urban cyclist for three years.


Send Corinne mail

Corinne's Packing List
Corinne's Project: My Life As an IJ
First Installment, Morocco 10/10/97

Second Installment, Post-Morocco 10/20/97

"HitchBiking" 12/14/97

"Let your message go far" -- This article appeared in the July issue of Bike Culture Quarterly. In it, Corinne talks about the BikeAbout experience, what school visits are like, and some of the challenges they have faced.
Corinne's Dispatches
Topics: thoughts about the upcoming trip
Topics: tajine (food), mint tea, clothing, Phoenicians, money
Topics: Mount Tidighin, Rif Mountains, water, women in society
Topics: biegnets (food), border crossing, customs, environment, scenery, Muslim holy day
Topics: border crossing, Phoenicians, HISTORY, language, environment
Topics: Phoenicians, Punic artifacts, El Haouaria, falconry, environment, vegetation
Topics: agriculture, olives, culture, daily life, access for the disabled
Topics: Lord Nelson, volcanos, Archimedes, history, environment, bicycle safety
Topics: a day in the life of a BikeAbout rider
Topics: babganooj (food), Living Cemetery, Fortress of Babylon, Nile River, religious sites, architecture
Topics: Alexander the Great, history, Greek and Egyptian antiquities, black market, Pharos, Fort Qait Bay
Topics: Intifada, security checkpoints, border crossing, leaving Egypt, environment, vegetation
Topics: opportunity for cultural exchange; Mediterranean beach; environment, refugee camps, Intifada, Palestinian daily life
Topics: Arabic greetings, security checkpoints, Shepherds' Field, religious sites, Israeli/Palestinian conflict
Topics: thoughts during mid-trip break
Topics: education/arts, Arab/Israeli exchange, social change organizations, "Healing the World"
Topics: bamba (food), friendship, peaceful coexistence, Caesarea Roman Amphitheater & Crusader City
Topics: car accident, pain, frustration
Topics: politics, Amnesty International, Greek vocabulary
Topics: wildlife, bike safety, diving
Topics: wildlife, Mediterranean Sea, ferry travel, Greek mythology, Seven Wonders of the Ancient World
Topics: mountain, youth hostels, exhaustion, forever sunsets
Topics: pine honey (food), St. Peter's Castle & Museum, potholes on the uphill
Topics: ruins ruins everywhere, the Oracle, apple tea (food), the effects of war on tourism
Topics: Ephesus, the Temple of Artemis, Seven Wonders of the Ancient World, bad coffee, HISTORY, Izmir, Gülden Güllü (Person of the Day)
Topics: school presentations, press interviews, live chat madness, email Turkish students!
Topics: Asclepion, Pergamum Acropolis, Troy, cheap transportation
Topics: mountain cheese, Gallipoli, Dardanelles Strait, being hidden in the back room of a restaurant
Topics: kaltsounia (food), intricacies of the Greek language, velodrome, "Greek" vs. "Hellenic", Crete, "kafeneio", AEGEE, Erasmus, cultural exchange
Topics: Nafplio, Venetian Fortresses, biking in snow, Arcadia region, Tripoli, Pan the god of good times, peaceful mountains
Topics: Ioannina High School, wax museum, George Tselikas (Person of the Day), dangerously strong winds, Konitsa at night
Topics: fresh stewed green beans (food), parasailing, lift, thermals, the Sky
Topics: tavë dhen (food), National Museum, National Gallery, "Linda" women's cultural center
Topics: octagonal castle, Frederick the II, Trulli houses, sudden change in travel plans
Topics: Adriatic Coast, DIA Sarajevo Euroclub, HISTORY
Topics: biking, headwind, rain, wildlife and endangered species, lodging, tourist towns, Dalmatian islands
Topics: potic(z)a (food and recipe), HISTORY, Metelkova Mesto, andrEa's gallery
Topics: tiramisu (food), Venezia, Piazza and Basilica San Marco (St. Mark Square and Basilica), the Venezia boat system (vaporetti), Marco Polo
Topics: polpette (food), modern family life, Marche Region, Ancona's port, a very long bike day
Topics: focaccia (food), bikes on trains in Italy, rain, Appian Way, the road to Roma
Topics: Tuscany, University student life in Pisa, Bicincittà (Pisa and Roma), reducing traffic to maintain ruins
Topics: pesto (food), Meucci Technical High School visit, Italian telecommunication monopoly, life in Genova, more rain
Topics: bouillabaisse (food), exchange networks, Association DIA (Dialogues and Initiatives), Maison Orangina, Corsica, Marseille, French colonial and political influence around the world
Topics: handicapped bicyclists, hospitality, Perpignan, Padraic's departure, Côte Vermeille/Costa Brava, "tra montana" winds, Catalonia, history, Iberian Peninsula
---
---
Copyright 1997-2004 BikeAbout. All rights reserved.
* Rider Cartoons by J.R. Lara. Used by permission.