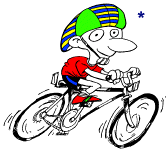 Meet Padraic Kennedy
Padraic is now Assistant Professor of European History at McNeese State University in Lake Charles, Louisiana, where he teaches courses on European, American, and World History. At the time of the BikeAbout–the Mediterranean journey, he had just earned his Ph.D. from Washington University in St. Louis, completing a dissertation that examined how 19th-century governments responded to early acts of terrorism and political violence. His current research focuses on espionage and intelligence work in Victorian Britain. For the past ten years, Padraic has combined his academic interests with his love of cycling and travel: organizing, leading, and participating in bicycle tours throughout Europe and the Mediterranean. Padraic has at times boasted (quietly) about his microwave oven skills, memorably winning the prestigious Iron Chef competition with his ingenious creations using Velveeta Cheese Products. Or not.


Send Padraic mail

Padraic's Packing List
Padraic's Project
Cultural Literacy
Padraic's Dispatches
Topics: thoughts about the upcoming trip
Topics: tajine (food), mint tea, clothing, Phoenicians, money
Topics: artisans, education, kasbah, Moors, history, djellabas, clothing
Topics: daily life, women in society
Topics: tortilla con queso (food), Algeria, Melilla, border crossing
Topics: brik (food), environment, Bizerte, wildlife, Utique (Utica), mosaics, Punic tombs
Topics: Phoenicians, Punic artifacts, El Haouaria, falconry, environment, vegetation
Topics: Emperor Gordian I, Roman Amphitheater
Topics: tajine (food), mosaics, art and artifacts, Punic artifacts, mosque
Topics: fatta (food), Seven Wonders of the World, building Pyramids, history, Pharaohs, ancient religion, antiquities, daily life
Topics: Imhotep, Step Pyramid, Zoser, Old Kingdom, Memphis, Dahshur pyramids, Pharaoh
Topics: Nile River, taxis, train travel, rules of the road, environment
Topics: thoughts during mid-trip break
Topics: border crossing, Dead Sea, Jordan River Valley, Jericho
Topics: Amman (Jordan), visas, Irbid (Jordan), the Palestinian Question, King Hussein, HISTORY, Beirut first impressions
Topics: mana-eesh (food), social life, Lebanese civil war, Palestinian refugees, history, recreation
Topics: Znoud el s'ett (food), Citadel of St. Giles, Ottomans, cedars, Crusaders
Topics: travel
Topics: Adana, Mersin, Korykos, Kizkalesi, Silifke, traffic, HISTORY, Crusades, castles
Topics: Turkish ravioli (food), St. Nicholas, Diocletian, Lycia, Myra, history, Chimera, Mount Olympos, scenery
Topics: Minisa kebab (food), Byzantine Empire, Hagia Sofia/Aya Sofia/Sancta Sophia/Church of the Holy Wisdom, Justinian, daily life, Mosque of Sultan Ahmet/Blue Mosque, Ottoman Empire
Topics: salanaki (food), sports, Mount Athos (Agios Oros), Greek Orthodox monasteries, salt and bikes, travel, mythology
Topics: tiropitakia (food), museum for the blind, village life, Internet, antiquities, National Archaeological Museum, Homer, Ptolemy, minotaur, Mycenaean and Minoan civilizations, Corinth
Topics: tighanopsomo (food), Delphi, Apollo, oracle, equinox
Topics: Bekri meze (food), schoolchildren, Greek playground games, parasailing
Topics: sanduic (food), HISTORY, Illyria, Danube, Emperor Diocletian, Ottoman Empire, World War I, Skanderbeg, AEDP, school life
Topics: Adriatic Sea, seas, fishing, currency, border crossing
Topics: architecture, history, Venice, Ottomans, Napoleon
Topics: HISTORY, downtown Sarajevo, Barcelona-Srajevo A.D.L. Club, Franz Ferdinand, Gavrilo Princip, WWI, Sarajevo sights
Topics: prs(h)ut (food), Katja, CARNet, Trogir, wind, chat 'n' debate, private accommodation, cycling
Topics: History, Trieste, FIAB (Federazione Italiana Amici della Bicicletta), chat 'n' debate, Miramare Castle, Austrian Empire, Carducci School, Lanza family, Italian unification
Topics: Parco del Delta, environment, Basilica di San Vitale, Emperor Flavius Honorius, Ravenna, Ostrogoths, history, Dante
Topics: granita (food), Pompeii, Mount Vesuvius
Topics: capelletti (food), bicycle advocacy, Vatican Museum, history, art, Emperor Constantine, Roman Empire, Christianity, Etruscans, Middle Ages, Renaissance, Michelangelo, Sistine Chapel, Lateran Treaty, Vatican City (Holy See)
Topics: pane Toscano (food), Unione Italiana Sport per Tutti, Campo dei Miracoli (Leaning Tower of Pisa)
Topics: tapenade (food), Monaco, Grimaldi family, French Riviera, more rain, Menton, Côte d'Azur, Monaco, Cannes
Topics: pierrade (food), wildlife, environment, Crusades, Arles, Roman Empire, Rhône
---
---
Copyright 1997-2004 BikeAbout. All rights reserved.
* Rider Cartoons by J.R. Lara. Used by permission.