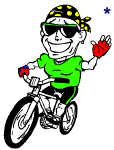 Meet Anthony Ziehmke
Anthony is a product of the wide open spaces of the West. Born in Cheyenne, Wyoming, and moved to Wisconsin, he has been a part of the outdoors since his first camping trip when he was two weeks old. His passion for hiking, camping, canoeing, hunting, fishing, and cycling remains undiminished. With a degree in English Literature from the University of Wisconsin–Madison, a penchant for science and technology, and a consuming curiosity about the world, its cultures, and customs, Anthony has, among other things, worked for the salmon industry in Alaska, as a carpenter in Arizona, and a cycling tour guide in France, Switzerland, Spain, and Portugal. He has traveled throughout Europe, to North Africa, and, most recently, to Central America. Anthony is also a voracious reader, award-winning photographer, and wizardly cook. He has been cycling since he wore the wheels off his very first tricycle.


Send Anthony mail

Anthony's Packing List
Anthony's Project
Food and Culture: Project Introduction
Anthony's Dispatches
Topics: thoughts about the upcoming trip
Topics: tajine (food), mint tea, clothing, Phoenicians, money
Topics: couscous (food), Rif Mountains
Topics: tajine (food)
Topics: rail travel, tourism
Topics: olives, economy, Carthage, HISTORY, Phoenicians, Punic Wars, architecture, hammams (baths)
Topics: makroud (food), bike tech, Great Mosque in Kairouan, history, architecture, Bizantines, caravans
Topics: ojja (food), Odysseus/Ulysses, Homer, HISTORY, Ghirba ("Marvelous") synagogue, diaspora, agriculture, fondouks (caravanseries), tourism, economy, health care, education, human rights
Topics: kushari (food), arrival in Egypt/Cairo, border crossing, rules of the road
Topics: Mohammed, Islam, daily life, Citadel, mamluks, HISTORY, architecture, Pyramids, Ibn Tulun Mosque
Topics: balille (food), Egyptian police, Suez Canal, HISTORY, Ismailia
Topics: malfoof (food), Yassir Arafat, HISTORY (Gaza), Alexander the Great, rules of the road, refugee camps, environment, Palestinian daily life
Topics: zatar (food), Palestinian activism, West Bank, administrative detainees, Israeli settlements, HISTORY, Oslo Peace Accords, Israeli/Palestinian conflict
Topics: thoughts during mid-trip break
Topics: fat (food), battlefields from 1947-48 War for Independence, group reunification, rare Israeli snow storm, geography
Topics: pomelo (food), shabbat, Tel Aviv, Jaffa, HISTORY, Jerusalem for Bikes, Tel Aviv for Bikers, Challenge Ride
Topics: kebabs (food), 'Akko (Acre), Ptolomy, Crusades, History, "making Aliya", Mt. Carmel, Baha'ism
Topics: border crossing, Arthur James Balfour, Crusades, citadel, amphitheatre
Topics: coffee (food), Internet access, border crossing, terrain, Libyan weddings, reconstruction, civil war, social life
Topics: border crossing, nutrition, Hafez al-Assad, Middle East wars, history
Topics: bartoush (food), Norias of Hama, Crac des Chevaliers, health, Muslim Brotherhood, Phoenicians, agriculture, daily life
Topics: köfte (food), Ugarit, border crossing, Iskenderun, travel
Topics: Börek (food), Atatürk, HISTORY, Ottoman Empire, Alanya, history of the bicycle
Topics: Xanthos, Lycian League, Alexander the Great, history, bicycling
Topics: Topkapi Palace, Ottoman Empire, Constantinople, history, Mehmet The Conqueror, daily life
Topics: frappé (food of the day), Pericles, Sparta, Athens, History, olives, media
Topics: Epidaurus, amphitheater architecture, South Eastern Mediterranean Sea Project UNESCO, Corinth Canal, Nero, school visits, environment, Asclepius
Topics: loukoumi (food), Independence Day, Ioannina, HISTORY, Ottoman Empire, transportation, bicycle race, daily life, Perama Cave
Topics: provatina (food), kayaking, hiking, Vikos-Aoös National Park, nightlife
Topics: yogurt (food), Durrës, Via Appia, Albanian Cycling Union, visas, politics in Albania, emigration, Albanian economy, bicycling
Topics: pasta, Saint Nicholas/Santa Claus/San Nicola, architecture, William the Bad, daily life, Normans, Yugoslavia, borders
Topics: The Walls of Dubrovnik, Josip Broz Tito, HISTORY, Nonalignment Policy, "sobe"
Topics: Kajmak (food), shrapnel, Mostar, Mladi Most, HISTORY, Kujundz(h)iluk (Old Quarter), Pavarotti Center, Stari Most (Old Bridge)
Topics: D(j)uved(j) (food), 45th parallel, latitude and longitude, Zadar, history, Pag Island
Topics: Aquileia, Attila the Hun, tourism, history, Roman Empire, antiquities, mosaics
Topics: peperoncino (food), Republic of San Marino, Emperor Trajan, history, percent grade
Topics: pizza margherita (food), Napoli by bike, subterranean Napoli, Certosa di San Martino and San Martino Museum
Topics: spaghetti matriciana (food), Saint Peter's Square and Basilica, the Spanish Steps of Roma, HISTORY, Christianity, the papacy
Topics: risotto (food), Cinque Terre, topography, Napolean, bicycle safety, being tourists
Topics: French cheese (food), Collège Internationale de Valbonne, Sophia-Antipolis, stereotypes, Massif de l'Esterei, Cogolin, Toulon, team cycling etiquette
Topics: oysters (food), Football/Soccer (HISTORY), the World Cup, Montpellier
---
---
Copyright 1997-2004 BikeAbout. All rights reserved.
* Rider Cartoons by J.R. Lara. Used by permission.