BikeAbout the Mediterranean: Israel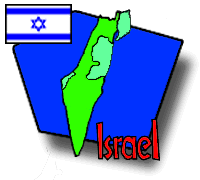 BikeAbout-the Mediterranean was a nine-month, 11,000-kilometer circumnavigation of the Mediterranean Sea... by bicycle. The BikeAbout team visited Israel on December 12, 1997 and from January 12, 1998 to January 22, 1998. To read about what happened, see any of the following trip dispatches:
Topics: challah (food), Sabbath, ancient Ashqelon, Philistine city-states, Crusades, exchange rates, security checkpoints, vegetation, environmentalism
Topics: fat (food), battlefields from 1947-48 War for Independence, group reunification, rare Israeli snow storm, geography
Topics: humus (food), Temple Mount, Mount Moriah, Dome of the Rock, Herod, Jerusalem, HISTORY, Crusades, Hadrian, Alexander the Great, Ottoman Empire, Diaspora
Topics: labaneh (food), Benny and Esther van Vlymen (People of the Day), Jerusalem by ofnayim/bike, Yad Vashem (Holocaust Museum), Cinematheque, metal monies and symbols
Topics: education/arts, Arab/Israeli exchange, social change organizations, "Healing the World"
Topics: pomelo (food), shabbat, Tel Aviv, Jaffa, HISTORY, Jerusalem for Bikes, Tel Aviv for Bikers, Challenge Ride
Topics: bagel (food), military history, military service, bicycle advocacy, Diaspora
Topics: Green Line, cornflakes (food), Givat Haviva, equality and understanding
Topics: bamba (food), friendship, peaceful coexistence, Caesarea Roman Amphitheater & Crusader City
Topics: kebabs (food), 'Akko (Acre), Ptolomy, Crusades, History, "making Aliya", Mt. Carmel, Baha'ism
In addition to reading these dispatches, we encourage you to visit these resources:
BikeAbout Israel Scrapbook

Photos and sounds gathered by the BikeAbout team; maps of Israeli coast.

About Israel

Basic facts about Israel's government, economy, and people; links to other sources of information on the 'Net. Compiled by BikeAbout.
---
---

Internet access and Web hosting while in Israel were provided by Aquanet.
Copyright 1998-2004 BikeAbout. All rights reserved.