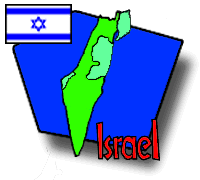 About Israel
Official Name: State of Israel (Medinat Yisra'el)
Location: Israel is located in the Middle East (above the 30th parallel, North). It is bordered on the west by the Mediterranean Sea and Egypt. It touches Lebanon to the north and Syria, Jordan, and Saudi Arabia to the east.
Land Area: 20,330 sq km (7,847 sq mi), excluding the disputed territories of Gaza and the West Bank.
Coast: 273 km (170 mi) of Mediterranean coast.
Climate: Israel has a Mediterranean climate in the north, with cool, wet winters and hot, dry summers. Southern Israel is arid. Temperatures average from 18° to 32°C (65° to 90°F) in the summer and 14°C (57°F) along the coast in the winter.
Population: Over 5½ million inhabitants, of which 28% are younger than 15, and 63% are between 15 and 64 years old.
Language: Hebrew is the official language of Israel, but English is also widely spoken, and an increasing number of inhabitants speak Russian. Arabic is used officially for the Arab minority.
Religion: The majority of Israel's inhabitants are Jewish, but there are Muslim (mostly Sunni), Christian, and other minority religions.
Government: Israel is a parliamentary democracy. The Executive Branch consists of the president, prime minister, and cabinet. The Legislative Branch consists of the 120-member popularly elected Knesset (parliament). The Judicial Branch consists of the Supreme Court. The president is elected by the Knesset; the prime minister is elected by popular vote. The cabinet is chosen by the prime minister (traditionally from the Knesset membership) and is approved by the Knesset. The Israeli chief of state is the president. His duties are primarily ceremonial.
Executive (President, Prime Minister, or King): Prime Minister Ariel Sharon
Capital: Jerusalem
Flag:

Currency: The Israeli currency is the new Israeli shekel (NIS), which is divided into 100 new agorot. The exchange rate was approximately 3.6 new Israeli shekels (NIS) for every $1 in February of 1998, shortly after BikeAbout's visit to Israel.



Find out how many Israeli shekels there are in your local currency!
Resources and Industry: Israel's industries include food processing, diamond cutting and polishing (Israel produces about 80 percent of small polished diamonds!), textiles and clothing, chemicals, metal products, military equipment, transport equipment, electrical equipment, potash mining, high-technology electronics and tourism. Israel's major trading partners are the US, Japan, and the countries of the European Union. Israel is able to provide most of its food from domestic production, despite harsh growing conditions in most of the country.
Transport: 15,965 km (9,914 mi) of road; 610 km (379 mi) of train tracks.
Electric Current: 220 volts.
Time Zone: GMT +2 hours
Sources: CIA World Factbook 2000, Israel Ministry of Foreign Affairs, Lonely Planet
Web Links
Note: The opinions expressed in these sites and reports do not necessarily reflect the opinions of BikeAbout. If you have seen a Web site that you think BikeAbout participants would be interested in, please send the URL to links@bikeabout.org. We'll review the site and consider adding it to our resource library.
Discover Israel is a comprehensive travel guide that includes information about official institutions, places of interest, museums, holy places, the Israeli media, and kibbutz. Also provides interactive maps, weather forecasts, and news.
Historical overview, maps, travel facts, culture, environment, attractions. The "Off the Beaten Track" feature is especially interesting. Brought to you be Lonely Planet.
Official Web Site of the Embassy of Israel in The Netherlands, produced by the Department of Press and Information. Contains press releases, audiovisual & print archives, and business, cultural & travel information.
Find out about efforts by the medical community in Jerusalem. Events and news.
Commercial travel site, but does include useful maps and gallery images.
Exchange rates, weather, maps, picture gallery, and city guides.
Tourist news and weather from Israel.
Travel and tourism information categorized by region.
Links to facts about Israel, news reports, the government. Guide to the Mideast Peace Process. Awarded Magellen 3-Star Site and Pointcast Top 5% of the Web. [English, ]
School directory, general country information. Compiled by WorldWide Classroom.
Comprehensive information compiled as part of the Jerusalem 3000th anniversary celebration.
Travel and tourism information about Jerusalem and environs, including sites, events, and cultural sites.
Photographs compiled by the Israel Ministry of Foreign Affairs. [English, ]
Municipal information, entertainment, tourist sites, hiking information. [Hebrew]
Virtual tour of Jerusalem.
Daily news from Israel.
From DeLorme Mapping (1991). Used by permission.
"An Internet visit to Ashkelon." See the sites or view their online collection of local artists.

The Old City of Jerusalem and its Walls (UNESCO World Heritage Site) [also available in French]

From the University of Texas online map collection. [958x1248 pixels]
Weather in Jerusalem. Source: USAToday.
Weather in Tel-Aviv. Source: USAToday.



Reports from Leon Gork:

A series of reports written by Leon Gork, a tour guide who writes about places he has visited. Leon was very helpful to the BikeAbout team while they were in Israel, and has graciously allowed us to make his work available to you on the BikeAbout site.

Yad Vashem (The Holocaust Memorial) -- December 11, 1997
Capernaum -- December 22, 1997
The Wailing Wall, Jerusalem -- January 5, 1998
Jaffa (Joppa) -- January 29, 1998
The Menorah -- March 20, 1998
Caesarea -- March 29, 1998
Caesarea -- April 12, 1998
Megiddo -- April 21, 1998
The Jordan River -- April 25, 1998
Mea Shearim -- May 4, 1998
Bet Shean -- May 24, 1998
The Broad Wall
Rosh Hashanah 5759 -- September 20, 1998

EDUCATION RESOURCES:

Catalog of educational resources on the Web [in Hebrew].
Educational resources [in Hebrew].
The Center for Educational Technology Web site [in Hebrew].
Aviv educational resources [in Hebrew, also available in English].

CYCLING SITES:

Cycling List [BikeAbout resource, includes listings for cycling organizations in Israel]
Jerusalem for Bicycles [English]
---
---

Internet access and Web hosting while in Israel were provided by Aquanet.
Copyright 1997-2004 BikeAbout. All rights reserved.