BikeAbout the Mediterranean: Greece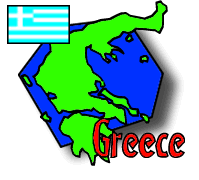 BikeAbout-the Mediterranean was a nine-month, 11,000-kilometer circumnavigation of the Mediterranean Sea... by bicycle. Two members of the BikeAbout team (andrEa and Corinne) visited Rhodes from February 6, 1998 to February 8, 1998. The entire BikeAbout team visited mainland Greece from March 5, 1998 to March 30, 1998. To read about what happened, see any of the following trip dispatches:
Topics: wildlife, Mediterranean Sea, ferry travel, Greek mythology, Seven Wonders of the Ancient World
Topics: media, antiquities, King Philip II of Macedon, history, alphabet
Topics: salanaki (food), sports, Mount Athos (Agios Oros), Greek Orthodox monasteries, salt and bikes, travel, mythology
Topics: frappé (food of the day), Pericles, Sparta, Athens, History, olives, media
Topics: kaltsounia (food), intricacies of the Greek language, velodrome, "Greek" vs. "Hellenic", Crete, "kafeneio", AEGEE, Erasmus, cultural exchange
Topics: tzatziki (food), Greek restaurants, Katerina (Person of the Day), Acropolis/Parthenon, HISTORY, "No Limits World," a quick tour of Athens, Greek-Turkish relations
Topics: tiropitakia (food), museum for the blind, village life, Internet, antiquities, National Archaeological Museum, Homer, Ptolemy, minotaur, Mycenaean and Minoan civilizations, Corinth
Topics: Epidaurus, amphitheater architecture, South Eastern Mediterranean Sea Project UNESCO, Corinth Canal, Nero, school visits, environment, Asclepius
Topics: Nafplio, Venetian Fortresses, biking in snow, Arcadia region, Tripoli, Pan the god of good times, peaceful mountains
Topics: souvlaki (food), Olympic Games, Wonders of the Ancient World, the Greek gods
Topics: tighanopsomo (food), Delphi, Apollo, oracle, equinox
Topics: loukoumi (food), Independence Day, Ioannina, HISTORY, Ottoman Empire, transportation, bicycle race, daily life, Perama Cave
Topics: Ioannina High School, wax museum, George Tselikas (Person of the Day), dangerously strong winds, Konitsa at night
Topics: grilled meat (food), the Town Hall and Mayor of Konitsa, earthquakes, school presentations
Topics: provatina (food), kayaking, hiking, Vikos-Aoös National Park, nightlife
Topics: fresh stewed green beans (food), parasailing, lift, thermals, the Sky
Topics: Bekri meze (food), schoolchildren, Greek playground games, parasailing
In addition to reading these dispatches, we encourage you to visit these resources:
BikeAbout Greece Scrapbook

Photos and sounds gathered by the BikeAbout team; maps of Greek coast.

About Greece

Basic facts about Greece's government, economy, and people; links to other sources of information on the 'Net. Compiled by BikeAbout.
---
---

Internet access while in Greece was provided by FORTHNet.
Copyright 1998-2004 BikeAbout. All rights reserved.