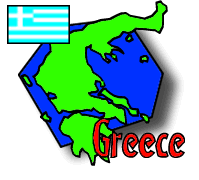 About Greece
Official Name: Hellenic Republic (Elliniki Dhimokratia)
Location: Greece is located in southern Europe (around the 40th parallel, North). It is bordered on the west by the Ionian Sea, on the east by the Aegean Sea, and on the south by the Mediterranean Sea. It touches Albania, Macedonia, and Bulgaria to the north, and Turkey to the south. It includes many small islands in the Mediterranean, Ionian, and Mediterranean Seas and the large island of Crete.
Land Area: 130,800 sq km (50,489 sq mi).
Coast: 13,676 km (8,493 mi) of coastline on the Aegean, Ionian, and Mediterranean Seas.
Climate: Greece has a Mediterranean climate, with mild, wet winters and hot, dry summers. The average temperature in the winter is approximately 13°C (54°F) in Athens and southern Greece, colder in Thessaloniki and the north. The BikeAbout team encountered cold temperatures and snow during their journey through northern Greece. The average temperature in the summer is approximately 28°C (82°F) in Athens and southern Greece, cooler in Thessaloniki and the north.
Population: Over 10 million inhabitants, of which 15% are younger than 15, and 67% are between 15 and 64 years old.
Language: Greek is the official language of Greece, but English and French are widely spoken.
Religion: The vast majority of Greeks belong to the Greek Orthodox church, but there are minority Muslim, Jewish, and non-Orthodox Christian populations.
Government: Greece had a monarchy until 1974, but since that time has been a parliamentary republic. The Executive Branch consists of a president, prime minister, and cabinet, the Legislative Branch consists of the 300-member popularly elected Parliament (Vouli ton Ellinon), and the Judicial Branch consists of the Supreme Judicial Court and Special Supreme Tribunal, whose judges are appointed for life by the president after consultation with a judicial council. The president is elected by the Parliament. The prime minister is appointed by the president. The cabinet is appointed by the president on the advice of the prime minister.
Executive (President or King): President Konstandinos (Kostis) Stephanopoulos; Prime Minister Costas Karamanlis
Capital: Athens
Flag:

Currency: On January 1, 2002, the sole currency of most member countries of the European Union, including Greece, became the euro (€), available in notes worth 5, 10, 20, 50, 100, 200 and 500 euro, and coins worth 1 and 2 euros, and 1, 2, 5, 10, 20, and 50 cents (100 cents equal to one euro). Greece's previous currency was the drachma (Dr), which was divided into 100 lepta. There were 50, 100, 500, 1,000, 5,000, and 10,000 drachma notes, as well as 1, 2, 5, 10, 20, 50, and 100 drachma coins. The exchange rate was approximately 320 drachma for every $1 while BikeAbout was in Greece.



Find out how many drachma there are in your local currency!
Resources and Industry: Shipping is one of the primary industries in Greece, which boasts the largest shipping fleet in the world. However, tourism is of primary importance to the Greek economy. Greece has a strong agricultural base able to provide much of the food necessary to feed the population. It produces olives, wine, tobacco, and other typical Mediterranean crops and products.
Transport: 117,000 km (72,657 mi) of road; 2,548 km (1,582 mi) of train tracks.
Electric current: 220 volts.
Time Zone: GMT +2 hours; GMT +3 hours during daylight savings time)
Sources: CIA World Factbook 2000, Mediterranean Europe on a shoestring (Lonely Planet), Lonely Planet
Web Links
Note: The opinions expressed in these sites do not necessarily reflect the opinions of BikeAbout. If you have seen a Web site that you think BikeAbout participants would be interested in, please send the URL to links@bikeabout.org. We'll review the site and consider adding it to our resource library.
The Acropolis, Athens (UNESCO World Heritage Site) [also available in French]

Online exhibit of works from the Perseus Project, centered in the Classics Department of Tufts University. LookSmart Editor's Choice award winner.

Archaeological Site of Delphi (UNESCO World Heritage Site) [also available in French]

Archaeological Site of Epidaurus (UNESCO World Heritage Site) [also available in French]

From the folks at Excite, this site has cultural, historical, and travel information, including weather reports and maps. Also includes links to other major sources of information about Greece.
Historical overview, maps, travel facts, culture, environment, attractions. The "Off the Beaten Track" feature is especially interesting. Brought to you be Lonely Planet.
General information, history, recreation and tourism information, and sites of interest.
Official site of the Embassy of Greece in Washington, DC, USA. Politics, culture, business, and tourism. Press releases.
Tourism information, including archaeological site listings and pictures, organized by region.
School directory, general country information. Compiled by WorldWide Classroom.
From the University of Crete-Hellas. Also available in Greek.
From DeLorme Mapping (1991). Used by permission.

Medieval City of Rhodes (UNESCO World Heritage Site) [also available in French]

Mount Athos (UNESCO World Heritage Site) [also available in French]

Paleochristian and Byzantine Monuments of Thessalonika (UNESCO World Heritage Site) [also available in French]

Rhodes [French]

A walking tour of old new and ancient sections of the city of Rhodes.
Tourism and historical information, including a list of archaeological sites and museums.
Lots of information about regions and cities in Greece and the Greek Islands, much of it provided by the Greece National Tourist Organisation.
Weather in Athens. Source: USAToday.
Weather in Thessaloniki. Source: USAToday.



CYCLING SITES:

Cycling List [BikeAbout resource, includes listings for cycling organizations in Greece]
---
---

Internet access while in Greece was provided by FORTHNet.
Copyright 1997-2004 BikeAbout. All rights reserved.