BikeAbout the Mediterranean: Turkey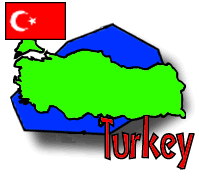 BikeAbout-the Mediterranean was a nine-month, 11,000-kilometer circumnavigation of the Mediterranean Sea... by bicycle. The BikeAbout team visited Turkey from February 11, 1998 to March 4, 1998. To read about what happened, see any of the following trip dispatches:
Topics: köfte (food), Ugarit, border crossing, Iskenderun, travel
Topics: Adana kebab (food), Antioch, Saint Peter
Topics: Adana, Mersin, Korykos, Kizkalesi, Silifke, traffic, HISTORY, Crusades, castles
Topics: Börek (food), Atatürk, HISTORY, Ottoman Empire, Alanya, history of the bicycle
Topics: Iskender kebab (food), Coast of Golden Sand, tourist over-development, the Greek gods, international artifact theft, Side, Antalya, HISTORY
Topics: Turkish ravioli (food), St. Nicholas, Diocletian, Lycia, Myra, history, Chimera, Mount Olympos, scenery
Topics: Xanthos, Lycian League, Alexander the Great, history, bicycling
Topics: mountain, youth hostels, exhaustion, forever sunsets
Topics: pine honey (food), St. Peter's Castle & Museum, potholes on the uphill
Topics: ruins ruins everywhere, the Oracle, apple tea (food), the effects of war on tourism
Topics: Ephesus, the Temple of Artemis, Seven Wonders of the Ancient World, bad coffee, HISTORY, Izmir, Gülden Güllü (Person of the Day)
Topics: school presentations, press interviews, live chat madness, email Turkish students!
Topics: Asclepion, Pergamum Acropolis, Troy, cheap transportation
Topics: travel
Topics: mountain cheese, Gallipoli, Dardanelles Strait, being hidden in the back room of a restaurant
Topics: geography, Constantine the Great, HISTORY, Constantinople/Istanbul
Topics: Minisa kebab (food), Byzantine Empire, Hagia Sofia/Aya Sofia/Sancta Sophia/Church of the Holy Wisdom, Justinian, daily life, Mosque of Sultan Ahmet/Blue Mosque, Ottoman Empire
Topics: Topkapi Palace, Ottoman Empire, Constantinople, history, Mehmet The Conqueror, daily life
In addition to reading these dispatches, we encourage you to visit these resources:
BikeAbout Turkey Scrapbook

Photos and sounds gathered by the BikeAbout team; maps of Turkish coast.

About Turkey

Basic facts about Turkey's government, economy, and people; links to other sources of information on the 'Net. Compiled by BikeAbout.
---
---

Internet access and Web hosting while in Turkey were provided by RAKSNet.
Copyright 1998-2004 BikeAbout. All rights reserved.