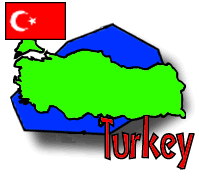 About Turkey
Official Name: Republic of Turkey (Turkiye Cumhuriyeti)
Location: Turkey is located in southwestern Asia (above the 45th parallel, North). It is bordered on the west by the Aegean Sea, on the north by the Black Sea, and on the south by the Mediterranean Sea. It touches Greece, Bulgaria, and Georgia to the north, Armenia and Iran to the east, and Iraq and Syria to the south.
Land Area: 770,760 sq km (297,513 sq mi).
Coast: 7,200 km (4,471 mi) of coastline on the Aegean, Black, and Mediterranean Seas.
Climate: The Aegean and Mediterranean coastal regions visited by BikeAbout on their journey through Turkey have mild, wet winters and hot, dry summers.
Population: Over 65 million inhabitants, of which 29% are younger than 15, and 65% are between 15 and 64 years old.
Language: Turkish is the official language of Turkey, but English is also widely spoken. With 20% of the population Kurdish, Kurdish is also spoken in some parts of Turkey. Many Turks also speak Arabic.
Religion: Almost all Turks are Muslim (mostly Sunni), but there are very small groups of Christians and Jews.
Government: Turkey is a republican parliamentary democracy, led by a president (who is elected by the National Assembly), the prime minister (appointed by the president), and a Council of Ministers nominated by the prime minister and appointed by the president. The Legislative Branch consists of the 550-member Grand National Assembly of Turkey (Turkiye Buyuk Millet Meclisi). The Judicial Branch consists of the Constitutional Court appointed by the president and Court of Appeals elected by the Supreme Council of Judges and Prosecutors.
Executive (President or King): President Ahmed Necdet Sezer; Prime Minister Recep Tayyip Erdogan
Capital: Ankara
Flag:

Currency: The Turkish currency is the Turkish Lira (TL). There are 10,000, 20,000, 50,000, 100,000, 250,000, 500,000, 1,000,000 and 5,000,000 lira notes, as well as 500, 1000, 2500, 5000, 10,000 lira coins. The exchange rate was approximately 110,119 Turkish Lira (TL) for every $1 in January of 1997 (the time of the BikeAbout journey). Due to high inflation in Turkey, the exchange rate changes rapidly.



Find out how many Turkish Lira there are in your local currency!
Resources and Industry: The Turkish economy relies heavily on agricultural products. In particular, Turkey is the biggest producer of wool in Europe. Turkey is also a food exporter. Turkey's mining industry extracts coal, chromite, copper, and boron, and manufacturing, especially of steel products, dominates the economy. Germany is Turkey's primary trade partner.
Transport: 382,397 km (237,468 mi) of road; 8,607 km (5,345 mi) of train tracks.
Electric current: 220 volts.
Time Zone: GMT +2 hours
Sources: CIA World Factbook 2000, Mediterranean Europe on a shoestring (Lonely Planet), and the Republic of Turkey Ministry of Foreign Affairs, Lonely Planet
Web Links
Note: The opinions expressed in these sites do not necessarily reflect the opinions of BikeAbout. If you have seen a Web site that you think BikeAbout participants would be interested in, please send the URL to links@bikeabout.org. We'll review the site and consider adding it to our resource library.
A comprehensive Middle Eastern portal. Provides information on the Middle Eastern economy and business sectors, along with politics, tourism, culture, legal issues, health, entertainment and sports. News items, in-depth reports and analysis on all these topics are undertaken daily. Includes a keyword search facility. Available in English and Arabic.
From the folks at Excite, this site has cultural, historical, and travel information, including weather reports and maps. Also includes links to other major sources of information about Turkey.
Historical overview, maps, travel facts, culture, environment, attractions. The "Off the Beaten Track" feature is especially interesting. Brought to you be Lonely Planet.
Topics range from tourism to politics and from history to business. News, sports, language, cuisine, and a picture gallery. Eye on the Web Selected Site, Point Top 5%, and Magellan 4-Star Site award winner.
History, maps, regional profiles.
Music, news, pictures, cuisine, history, and culture.
Cultural and historical sites, arts and entertainment.
From DeLorme Mapping (1991). Used by permission.
History, architecture, cuisine, news, maps, photos, and music from Safranbolu, a UNESCO World Heritage City.
This site includes areas on business, the economy, politics and policy, social and cultural life, and tourism in Turkey. The section on Turkey's political system is a highlight of this site.
Photo gallery sorted by region.
Hedalines, sports, weather, financial, national and international news from Turkey. Available in Turkish.
School directory, general country information. Compiled by WorldWide Classroom.
Weather in Istanbul. Source: USAToday.
---
---

Internet access and Web hosting while in Turkey has been
provided by RAKSNet.
Copyright 1997-2004 BikeAbout. All rights reserved.