BikeAbout the Mediterranean: Tunisia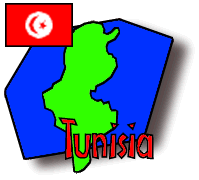 BikeAbout-the Mediterranean was a nine-month, 11,000-kilometer circumnavigation of the Mediterranean Sea... by bicycle. The BikeAbout team visited Tunisia from October 17, 1997 to November 9, 1997. To read about what happened, see any of the following trip dispatches:
Topics: Port of Tunis, economy, agriculture, border crossing
Topics: brik (food), environment, Bizerte, wildlife, Utique (Utica), mosaics, Punic tombs
Topics: medina, harissa (food), computer technology
Topics: olives, economy, Carthage, HISTORY, Phoenicians, Punic Wars, architecture, hammams (baths)
Topics: Phoenicians, Punic artifacts, El Haouaria, falconry, environment, vegetation
Topics: Crêpes (food), women in society, Maghreb, tourism, maps, navigation, GPS
Topics: Salade méchouia (food), ribat, mosque, rules of the road, medina, catacombs, daily life
Topics: makroud (food), bike tech, Great Mosque in Kairouan, history, architecture, Bizantines, caravans
Topics: Emperor Gordian I, Roman Amphitheater
Topics: agriculture, olives, culture, daily life, access for the disabled
Topics: bicycle tech, tourism
Topics: agriculture, Hollywood films, cinema, "STAR WARS," "troglodyte" (cave) homes
Topics: ojja (food), Odysseus/Ulysses, Homer, HISTORY, Ghirba ("Marvelous") synagogue, diaspora, agriculture, fondouks (caravanseries), tourism, economy, health care, education, human rights
Topics: tajine (food), mosaics, art and artifacts, Punic artifacts, mosque
In addition to reading these dispatches, we encourage you to visit these resources:
BikeAbout Tunisia Scrapbook

Photos and sounds gathered by the BikeAbout team; maps of Tunisian coast.

About Tunisia

Basic facts about Tunisia's government, economy, and people; links to other sources of information on the 'Net. Compiled by BikeAbout.
---
---
Copyright 1998-2004 BikeAbout. All rights reserved.