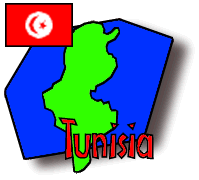 About Tunisia
Official Name: Republic of Tunisia (Al Jumhuriyah at Tunisiyah)
Location: Tunisia is located along the north African Mediterranean coast, between Algeria, which is to its south and west, and Libya, which is to the south and east. It is separated from Sicily, Italy by 137 km (85 mi).
Land Area: 155,360 sq km (59,969 sq mi).
Coast: 1,148 km (713 mi) of coast, not counting the islands.
Climate: Tunisia enjoys a Mediterranean climate (hot, dry summers and mild, wet winters) in the north and along the coast, but is semi-arid in the interior and to the south (some Saharan areas get no rain for years). Average temperatures range from 11.4° C in December to 29.3° C in July (although getting well into the 40s) with irregular precipitation occurring mostly (75% of the annual total) during the cold season (roughly November/December through April/May).
Population: 2000 estimates show the population of Tunisia at over 9½ million inhabitants, of which approximately 50% are younger than 20, and 65% are younger than 30. The urban-rural breakdown is approximately 60%-40%.
Language: Most Tunisians are bilingual, speaking Arabic -- the official language and the language of education and government -- and some French. Spoken Tunisian Arabic is very similar to spoken Moroccan Arabic.
Religion: Islam is the official religion of Tunisia, accounting for about 98% of the population. That said, there are still Roman Catholic and Jewish communities in Tunisia.
Government: Tunisia is a presidential republic with a constitution that was first approved in 1959. Since the presidential and legislative election of 1989, Tunisia has had a directly elected President and, following the legislative elections of 1994, the 163-seat Chamber of Deputies became, for the first time, a pluralist assembly representing five different parties.
Executive (President or King): President Zine El Abidine Ben Ali
Capital: Tunis
Flag:

Currency: The Tunisian currency is the Dinar (TD) which is divided into 1000 millimes or mills. There are 5, 10 and 20 Dinar bills and 5, 10, 20, 50, 100 and 500 mill coins, topped by the 1 Dinar coin. It is illegal to import or export Dinars from Tunisia. The exchange rate for the period of the BikeAbout visit is approximately 1 TD for every $1.



Find out how many Tunisian Dinars there are in your local currency!
Resources and Industry: The exportation of oil, which used to be an important source of revenue for Tunisia (25% of export income) -- has dropped off considerably in recent years, down to less than 10%. However, tourism has flourished in recent years -- surpassing 4 million visitors per year -- filling in for the loss in revenue from oil. In addition, the primary export products from Tunisia are leather, textiles, phosphates, olive oil, fertilizers and chemicals.
Transport: There are over 25,000 km (15,525 mi) of main roads and tracks, and 7,500 km (4,658 mi) of secondary roads. Tunisia has over 2,000 km (1242 mi) of railways.
Electric current: 220 volts (some places in the south use 110 volts).
Time Zone: GMT +1 hour
A brief history:
The city-state of Carthage, just a few kilometers from Tunis, is where Tunisia's history begins. Founded in 814 BC by Queen Dido as a Phoenician outpost, Carthage grew in importance until it had a population of more than a half a million people and was the most important power in the western Mediterranean. As a result, Carthage and the developing Roman Empire began a conflict which was fought over 128 years in the three Punic Wars. (It was during the second Punic War that the famous Carthaginian general, Hannibal, crossed the Alps with his elephants and devastated the Roman armies.) In the end, 146 BC, Rome won and went on to destroy Carthage completely.
After the Romans rebuilt the city as the capital of its African province, Carthage was captured by the Vandals (439 AD), then the Byzantines (533 AD), and finally the Arabs (670 AD) who set up their capital in Kairouan. Over the next 1,000 years, different dynastic families of Almohad Berber origin ruled over the area, most notably the Hafsides who presided over Tunisia's most stable and prosperous years, 1236-1574, until Tunisia was annexed by the Ottoman Empire. The Ottomans, who placed local administrators, or "beys," in charge of Tunis, had, by the early years of the 18th century, blended so much with the local population that the Husseinite Bey dynasty was established and functioned in a manner practically independent from Turkey.
In 1881, the French colonial forces invaded Tunisia, and in 1883 it was declared a French protectorate, which it remained until its independence on March 20, 1956. Mr. Habib Bourguiba, exiled leader of the Néo-Destour movement for national liberation, was appointed as first President of the Tunisian Republic. He is credited for having made many of the important decisions -- for example, compulsory free education, emancipation of women -- that have helped Tunisia to grow. In 1987, Mr. Zine El Abidine Ben Ali replaced Bourguiba as President, and in 1994 and 1999 was re-elected to the office he still holds today. New elections are scheduled for this year.

Sources: CIA World Factbook 2000, ArabNet, AfricaNet, Lonely Planet
Web Links
Note: The opinions expressed in these sites do not necessarily reflect the opinions of BikeAbout. If you have seen a Web site that you think BikeAbout participants would be interested in, please send the URL to links@bikeabout.org. We'll review the site and consider adding it to our resource library.
Extensive travel and country profile information.
A comprehensive Middle Eastern portal. Provides information on the Middle Eastern economy and business sectors, along with politics, tourism, culture, legal issues, health, entertainment and sports. News items, in-depth reports and analysis on all these topics are undertaken daily. Includes a keyword search facility. Available in English and Arabic.
Links to country indexes, news, pictures, and Middle Eastern recipes.
Government, history, geography, transportation, culture and descriptions of Tunisia's major cities.
Historical overview, maps, travel facts, culture, environment, attractions. The "Off the Beaten Track" feature is especially interesting. Brought to you be Lonely Planet.
From DeLorme Mapping (1991). Used by permission.
Geared toward tourism, this site includes descriptions of Tunisia's cities and archaeological sites. Winner of the Luckman 4 Star Award.
General information.
"Tunis a été proclamé Capitale Culturelle Régionale pour l'année 1997 lors de la 28ème session de la Conférence générale de l'UNESCO, tenue à Paris du 25 octobre au 16 novembre 1995." [French]
Live broadcasts from Radio Tunis, online newspapers, tourism and travel guide.
A service of Tunisia Online, this site contains general information about Tunisia's history, culture, environment, government and society. Available in French.
School directory, general country information. Compiled by WorldWide Classroom.
The history, environment, culture, politics and economy of Tunisia. Links to news sources. [French]
"The main business net center for Tunisia." Includes information about business opportunities and Tunisian companies, news, consulates and associations. Available in French.
Weather in Tunis. Source: USAToday.
---
---
Copyright 1997-2004 BikeAbout. All rights reserved.