BikeAbout the Mediterranean: Croatia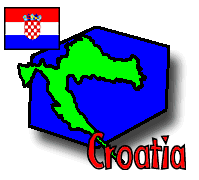 BikeAbout-the Mediterranean was a nine-month, 11,000-kilometer circumnavigation of the Mediterranean Sea... by bicycle. The BikeAbout team visited Croatia from April 11, 1998 to April 13, 1998 and from April 19, 1998 to April 25, 1998. To read about what happened, see any of the following trip dispatches:
Topics: architecture, history, Venice, Ottomans, Napoleon
Topics: The Walls of Dubrovnik, Josip Broz Tito, HISTORY, Nonalignment Policy, "sobe"
Topics: biking, headwind, rain, wildlife and endangered species, lodging, tourist towns, Dalmatian islands
Topics: school visit, UNESCO and World Heritage education activities, Split, history
Topics: prs(h)ut (food), Katja, CARNet, Trogir, wind, chat 'n' debate, private accommodation, cycling
Topics: D(j)uved(j) (food), 45th parallel, latitude and longitude, Zadar, history, Pag Island
In addition to reading these dispatches, we encourage you to visit these resources:
BikeAbout Croatia Scrapbook

Photos and sounds gathered by the BikeAbout team; maps of Croatian coast.

About Croatia

Basic facts about Croatia's government, economy, and people; links to other sources of information on the 'Net. Compiled by BikeAbout.
---
---
Copyright 1998-2004 BikeAbout. All rights reserved.