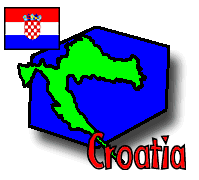 About Croatia
Official Name: Republic of Croatia (Republika Hrvatska)
Location: Croatia is located on the Balkan Peninsula of Southeastern Europe (about the 45th parallel, North). It is one of the republics that gained independence from Yugoslavia in the early 90s. It is bordered on the west by the Adriatic Sea. It touches Slovenia and Hungary to the north, Bosnia and Yugoslavia (Serbia) to the east, and Bosnia and Yugoslavia (Montenegro) to the south.
Land Area: 56,410 sq km (21,774 sq mi).
Coast: 5,790 km (3,596 mi) of coastline on the Adriatic Sea, the majority of which is on islands that dot the coastline.
Climate: Croatia has a mixed Mediterranean and continental climate, with mild winters and dry summers along the coast and wider temperature fluctuations in the interior.
Population: Over 4.2 million inhabitants, of which 18% are younger than 15, and 67% are between 15 and 64 years old.
Language: Most Croatians speak Croatian, but German is also widely spoken as a second language. Italian, English, Hungarian, and Czech and Slovak are also spoken in some areas.
Religion: The Croat population, who are the majority in Croatia, is primarily Roman Catholic, while the Serb population in Croatia is primarily Eastern Orthodox. There are minority Muslim, Protestant and other religious communities.
Government: Croatia is presidential/parliamentary democracy. The Executive Branch consists of a popularly elected president, a prime minister, and a council of ministers. The Legislative Branch consists of the parliament, the Sabor, a 152-member House of Representatives (Zastupnicki Dom) (the 68-member House of Counties [Zupanijski Dom] was abolished in 2001). The Judicial Branch consists of the Constitutional and Supreme Courts. The prime minister is appointed by the president, and the ministers are appointed by the prime minister. Judges are appointed by the Judicial Council of the Republic, which is elected by the House of Representatives.
Executive (President or King): President Stjepan (Stipe) Mesic
Capital: Zagreb
Flag:
Currency: The Croatian currency is the Croatian kuna (HRK), which is divided into 100 lipas. The exchange rate was approximately 6.3 Croatian kuna (HRK) for every $1 while BikeAbout was in Croatia.



Find out how many Craotian kuna there are in your local currency!
Resources and Industry: The Croatian economy relies on industrial activity, mining and manufacturing, including ship-building (Croatia is one of the world's largest producers of ships). War in the 1990s dramatically impacted the tourism industry, which was at one time a major contributor to Croatia's economy.
Transport: 27,840 km (17,289 mi) of road; 2,296 km (1,426 mi) of train tracks.
Electric current: 220 volts.
Time Zone: GMT +1 hour
Sources: CIA World Factbook 2000, Mediterranean Europe on a shoestring (Lonely Planet), Lonely Planet
Web Links
Note: The opinions expressed in these sites do not necessarily reflect the opinions of BikeAbout. If you have seen a Web site that you think BikeAbout participants would be interested in, please send the URL to links@bikeabout.org. We'll review the site and consider adding it to our resource library.
Brought to you by the folks at ABC News, this special report includes basic information about the Balkan countries, a timeline of events, profiles of Balkan leaders in the news, maps, and more to help people understand events in this region as they unfold.
Links to information about and from the republics of the former Yugoslavia, gathered by Association des Etats Généraux des Etudiants de l'Europe (AEGEE).
"In November 1996, the Human Rights Working Group in AEGEE, the East-West Working Group of AEGEE-Enschede and AEGEE-Maribor organised a Case Study Trip (CST) to former Yugoslavia." This site documents their trip and presents their findings.
History of Dubrovnik from 614 to 1993.
From the folks at Excite, this site has cultural, historical, and travel information, including weather reports and maps. Also includes links to other major sources of information about Croatia.
History, science, art, music, and a history of Dubrovnik. Even has links to Croatian cookbooks. Written in 1992.
History, culture, images, tourism, Web resource list.
"Celebrating 100 years of comic strips and 60 years of comic strips in Croatia." [Mostly in Croatian]
School directory, general country information. Compiled by WorldWide Classroom.
General information about Croatia, Croatia Weekly online newspaper.
Historical overview, maps, travel facts, culture, environment, attractions. The "Off the Beaten Track" feature is especially interesting. Brought to you be Lonely Planet.
Pictures, museum & gallery listings, general information.

Historical complex of Split with the Palace of Diocletian (UNESCO World Heritage Site) [also available in French]

Tourist information for the Istra region in north-coastal Croatia. Includes excellent information for cyclists wanting to tour the region. [Available in English, German, Italian, and Croatian]
From DeLorme Mapping (1991). Used by permission.
Croatian museums on the Internet.

Old City of Dubrovnik (UNESCO World Heritage Site) [also available in French]

From the University of Texas online map collection. [1396x1492 pixels]

Split

Split [French]

Pictures and general information.
"Celebrating 17 Centuries of the City of Split." Hosted by our friends at CARNet.
Weather forecast for Split.
A wealth of information about Dubrovnik compiled as part of the UNESCO World Heritage Cities program.
Tourism information, history, news, events, weather reports. Supported by our friends at CARNet.
Searchable directory of the Croatian WWW servers. Supported by our friends at CARNet.



CYCLING SITES:

Cycling List [BikeAbout resource, includes listings for cycling organizations in Croatia]
---
---
Copyright 1997-2004 BikeAbout. All rights reserved.