BikeAbout the Mediterranean: Morocco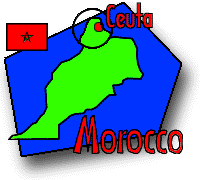 BikeAbout-the Mediterranean was a nine-month, 11,000-kilometer circumnavigation of the Mediterranean Sea... by bicycle. The BikeAbout team visited Morocco from September 25, 1997 to October 11, 1997. To read about what happened, see any of the following trip dispatches:
Topics: tajine (food), mint tea, clothing, Phoenicians, money
Topics: artisans, education, kasbah, Moors, history, djellabas, clothing
Topics: couscous (food), Rif Mountains
Topics: herira (food), Moroccan toilets, medina, daily life, architecture, kasbah, sharif
Topics: Mount Tidighin, Rif Mountains, water, women in society
Topics: biegnets (food), border crossing, customs, environment, scenery, Muslim holy day
Topics: Pigier Schools, education, economy, Internet access
Topics: daily life, women in society
Topics: tajine (food)
Topics: border crossing, Phoenicians, HISTORY, language, environment
Topics: Madigh (Madarh) region, Beni-Snassen Mountains, Nador, environment, bicycle safety
Topics: pastilla (food), Internet access, cultural exchange, Mediterranean Sea, daily life, taxis, wildlife
Topics: tortilla con queso (food), Algeria, Melilla, border crossing
In addition to reading these dispatches, we encourage you to visit these resources:
BikeAbout Morocco Scrapbook

Photos and sounds gathered by the BikeAbout team; maps of Moroccan coast.

About Morocco

Basic facts about Morocco's government, economy, and people; links to other sources of information on the 'Net. Compiled by BikeAbout.
---
---

Internet access and Web hosting while in Morocco were provided by AzureNet.
Copyright 1998-2004 BikeAbout. All rights reserved.