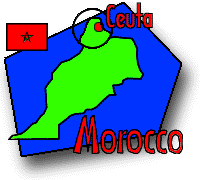 About Morocco
Official Name: Kingdom of Morocco (Al Mamlakah al Maghribiyah)
Location: Morocco is located at the extreme northwestern part of Africa (21st parallel, North). It is bordered on the north by the Mediterranean Sea and on the west by the Atlantic. It touches only two other countries: Algeria to the east and Mauritania to the south. It is separated from Spain by the Straits of Gibraltar which are only 14 km (8.7 mi) long.
Land Area: 446,300 square kilometers (172,272 sq mi).
Coast: 1,835 km (1,140 mi) of Atlantic coast and 500 km (310.5 mi) of Mediterranean coast.
Climate: Southern Morocco is subtropical and receives a yearly average of more than 8 hours of sun per day with a temperature of 21° C (73° F). The Mediterranean north has a more moderate climate, with an average temperature of 19° C (66° F).
Population: Over 30 million inhabitants, of which approximately 50% are younger than 20, and 70% are younger than 30.
Language: In addition to classic Arabic -- the language used in education, government and the media -- the basic everyday spoken languages are the Moroccan Arabic dialect, and Tamazight, a regrouping of many Berber dialects spoken in the Rif and Atlas Mountains. Most Moroccans also speak French (usually) or Spanish (in the northern former Spanish-held territories), and some speak a little English.
Religion: Islam is the official religion of Morocco, although other religions are officially recognized and practiced. In Islam, there are five calls to prayer each day -- at approximately just before sunrise, 9:30 a.m., 12:30 p.m., 3:30 p.m. and then just after sunset. Friday is the holy day when everyone goes to the mosque to pray.
Government: Morocco is a constitutional monarchy with a constitution that was adopted in 1971 and reformed in 1992. There are ministers appointed by the king and a bicameral parliament, an upper house or Chamber of Counselors (270 seats) and a lower house or Chamber of Representatives (325 seats). Counselors are elected indirectly by local councils, professional organizations, and labor syndicates for nine-year terms (the next election, for one third of the house, expected in 2006); representatives are elected by popular vote for five-year terms (the next election is in 2007).
Executive (President or King): King Mohamed VI
Capital: Rabat
Flag:

Currency: The Moroccan currency is the Dirham (DH)

which is divided into 100 centimes. There are 10, 50, 100 and 200 Dirham notes and 1 and 5 Dirham coins, as well as 5, 10, 20 and 50 centime coins. It is illegal to import or export Dirhams from Morocco. The exchange rate for the period of the BikeAbout visit was approximately 9.5 DH for every $1.



Find out how many Dirhams there are in your local currency!
Resources and Industry: Morocco is the world leader in producing phosphates, with 75% of the world's reserves. There are 3 million date palm trees and the production of 800,000 tons of oranges every year. Between Agadir, Safi and Tan Tan, Morocco has the world's most important ports for sardines. There are approximately 3 million tourists per year.
Transport: 57,847 km (35,923 mi) of road; 1,907 km (1,184 mi) of train tracks.
Electric current: 220 volts in new buildings, 110 volt outlets in old buildings.
Time Zone: GMT
A brief history:
Morocco is composed predominantly of the descendants of the original Berbers who were spread across most of North Africa thousands of years ago. Since then, the Phoenicians, Carthaginians, Romans, and Vandals have swept through, finally giving way to the Arab Islamic wave of the 8th century. In fact, Morocco has existed as a country since this time, the year 788, when Idriss the First was proclaimed king.
Throughout 12 centuries of tumultuous history, Morocco succeeded in holding onto its independence, even during most of the colonial period, until the 1912 Treaty of Fes turned most of the country over to France and a small part in the north over to Spain. Local resistance to the colonial powers was maintained either through direct confrontation or political channels until 1955, when the Sultan Mohammed V, exiled by France in 1953, was allowed to return. Independence was declared the following year. Mohammed V became king, was succeeded in 1961 by his son, Hassan II, who has since been succeeded (in 1999) by his son, Mohammed VI, the current ruling monarch.

Sources: CIA World Factbook 2000, ArabNet, City.Net Morocco
Web Links
Note: The opinions expressed in these sites do not necessarily reflect the opinions of BikeAbout. If you have seen a Web site that you think BikeAbout participants would be interested in, please send the URL to links@bikeabout.org. We'll review the site and consider adding it to our resource library.
Read BikeAbout rider Ethan Gelber's report on Moroccan clothing, particularly djellabas.
Limited, basic country profile information.
A comprehensive Middle Eastern portal. Provides information on the Middle Eastern economy and business sectors, along with politics, tourism, culture, legal issues, health, entertainment and sports. News items, in-depth reports and analysis on all these topics are undertaken daily. Includes a keyword search facility. Available in English and Arabic.
Links to country indexes, news, pictures, and Middle Eastern recipes.
Government, history, geography, transportation, culture and descriptions of Morocco's major cities.
From the folks at Excite, this site has cultural, historical, and travel information, including weather reports and maps. Also includes links to other major sources of information about Morocco.
Historical overview, maps, travel facts, culture, environment, attractions. The "Off the Beaten Track" feature is especially interesting. Brought to you be Lonely Planet.
Official Web site of the Morocco Ministry of Communication. Business and tourism information, geography, news, and a gallery of the "Carpets of Rabat." Available in French.
From DeLorme Mapping (1991). Used by permission.
Geared toward tourism, this site includes descriptions of Morocco's cities and archaeological sites. Winner of the Luckman 4 Star Award.
An interesting array of questions answered, from recommendations for places to visit to how to make Moroccan mint tea. Learn about the culture, practical information about travel to and in Morocco, and security considerations while in Morocco.
School directory, general country information. Compiled by WorldWide Classroom.
General information, local time, map.
A traveler's guide to Morocco. [French]
History, culture, economy, entertainment, and city profiles. Searchable index.
In addition to various facts about Morocco, this site features online trip reports from site visitors and chats and forums among travelers to and residents of Morocco.
Weather forecast for Tanger.



CYCLING SITES:

Cycling List [BikeAbout resource, includes listings for cycling organizations in Morocco]
---
---

Internet access and Web hosting while in Morocco were provided by AzureNet.
Copyright 1997-2004 BikeAbout. All rights reserved.