BikeAbout the Mediterranean: Lebanon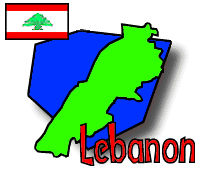 BikeAbout-the Mediterranean was a nine-month, 11,000-kilometer circumnavigation of the Mediterranean Sea... by bicycle. Three members of the BikeAbout team (Anthony, Ethan and Padraic) visited Lebanon from January 28, 1998 to February 5, 1998. To read about what happened, see any of the following trip dispatches:
Topics: Amman (Jordan), visas, Irbid (Jordan), the Palestinian Question, King Hussein, HISTORY, Beirut first impressions
Topics: Leila Mouammar (Person of the Day), Beirut (reconstruction, Hamra), Civil War, war, HISTORY, Eid el-Futr party
Topics: mana-eesh (food), social life, Lebanese civil war, Palestinian refugees, history, recreation
Topics: coffee (food), Internet access, border crossing, terrain, Libyan weddings, reconstruction, civil war, social life
Topics: Phoenicians, papyrus, Alexander the Great, Byzantines, Crusaders, alphabets, bike safety
Topics: Znoud el s'ett (food), Citadel of St. Giles, Ottomans, cedars, Crusaders
Topics: border crossing, nutrition, Hafez al-Assad, Middle East wars, history
Topics: agriculture, daily life
In addition to reading these dispatches, we encourage you to visit these resources:
BikeAbout Lebanon Scrapbook

Photos and sounds gathered by the BikeAbout team; maps of Lebanese coast.

About Lebanon

Basic facts about Lebanon's government, economy, and people; links to other sources of information on the 'Net. Compiled by BikeAbout.
---
---
Internet access while in Lebanon was provided by Nethopper.
Copyright 1998-2004 BikeAbout. All rights reserved.