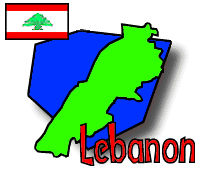 About Lebanon
Official Name: Republic of Lebanon (Al Jumhuriyah al Lubnaniyah)
Location: Lebanon is located in the Middle East (about the 33rd parallel, North). It is bordered on the west by the Mediterranean Sea. It touches Syria to the north and east and Israel to the south.
Land Area: 10,230 sq km (3,949 sq mi).
Coast: 225 km (140 mi) of Mediterranean coast.
Climate: Lebanon has a Mediterranean climate, with cool, wet winters and hot, dry summers. The sun shines 300 days a year. Summer daytime temperatures average 30°C (86°F) along the coast. Winter daytime temperatures average 15°C (59°F). The mountains receive heavy snows in winter.
Population: Over 3½ million inhabitants, of which 28% are younger than 15 years old.
Language: Arabic is the official language, but French is also widely spoken. Armenian and English are also spoken by much of the population.
Religion: Nearly all of Lebanese citizens belong to one of 5 legally recognized Islamic sects or 11 legally recognized Christian sects.
Government: Lebanon is a republic, governed by an Executive Branch consisting of the President, Prime Minister, and a cabinet; the Legislative Branch consisting of the 128-member popularly elected National Assembly (Majlis Alnuwab or Assemblée Nationale); and the Judicial Branch consisting of four Courts of Cassation, a Constitutional Council and the Supreme Council. The president is elected by the National Assembly. The prime minister is appointed by the president in consultation with the National Assembly, and the cabinet is appointed by the prime minister in consultation with the president and the National Assembly. By custom, the president is a Maronite Christian, the prime minister is a Sunni Muslim, and the speaker of the legislature is a Shi'a Muslim.
Executive (President or King): President Emile Lahud; Prime Minister Rafiq Hariri
Capital: Beirut
Flag:

Currency: The Lebanese currency is the Lebanese pound (£L), which is divided into 100 piasters. There are 50, 100, 250, 500, 1000, and 10,000 pound notes. The exchange rate was approximately 1,551 Lebanese pounds (£L) for every $1 in January of 1997 (the time of the BikeAbout journey).



Find out how many Lebanese pounds there are in your local currency!
Resources and Industry: Lebanon's major industries are banking; food processing; textiles, jewelry; cement, oil refining, chemicals, metal fabricating, and wood and paper products.
Transport: 7,300 km (4,533 mi) of road; 399 km (248 mi) of train tracks.
Electric Current: both 220 volts and 110 volts
Time Zone: GMT +2 hours
Sources: CIA World Factbook 2000, ArabNet, Lonely Planet
Web Links
Note: The opinions expressed in these sites do not necessarily reflect the opinions of BikeAbout. If you have seen a Web site that you think BikeAbout participants would be interested in, please send the URL to links@bikeabout.org. We'll review the site and consider adding it to our resource library.
A comprehensive Middle Eastern portal. Provides information on the Middle Eastern economy and business sectors, along with politics, tourism, culture, legal issues, health, entertainment and sports. News items, in-depth reports and analysis on all these topics are undertaken daily. Includes a keyword search facility. Available in English and Arabic.
Award-winning site (compiled by Borre Ludvigsen) filled with cultural and other information about Lebanon and the Middle East.
Links to country indexes, news, pictures, and Middle Eastern recipes.
Government, history, geography, transportation, culture and descriptions of Lebanon's major cities.
Historical overview, maps, travel facts, culture, environment, attractions. The "Off the Beaten Track" feature is especially interesting. Brought to you be Lonely Planet.
Official site of the Embassy of Lebanon in Washington, DC, USA. General information about Lebanon, business and tourism information, news headlines, and population and economic statistics.
Government, history, location and other information about Hammana, "a typical Lebanese Village."
"Your digital gateway to business, culture, & art in Lebanon."
Comprehensive and uptodate index to sites about Lebanon.
General information, local time, map.
From DeLorme Mapping (1991). Used by permission.
Resources on economic development in Lebanon.
Weather in Beirut. Source: USAToday.
List of government and business sites about Lebanon.
---
---
Internet access while in Lebanon was provided by Nethopper.
Copyright 1997-2004 BikeAbout. All rights reserved.