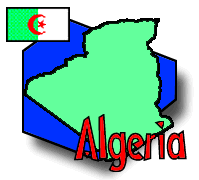 About Algeria
Official Name: Democratic and Popular Republic of Algeria (Al Jumhuriyah al Jaza'iriyah ad Dimuqratiyah ash Shabiyah)
Location: Algeria is located in North Africa (21st parallel, North), between Morocco and Tunisia. It is bordered on the north by the Mediterranean Sea, on the west by Morocco, on the east by Tunisia and Libya, and on the south by Mauritania, Mali, Niger and Western Sahara.
Land Area: 2,381,740 sq km (919,352 sq mi). Algeria is the second largest country in Africa.
Coast: 998 km (620 mi) of Mediterranean coast.
Climate: Algeria has an arid to semiarid climate, with mild, wet winters and hot, dry summers along the Mediterranean coast. Temperatures in the northern region average 25°C (77°F) in the summer and 11°C (52°F) in the winter.. It is known for the sirocco winds that are common in the summer. The siroccos are hot winds that bring sand and dust from the arid interior.
Population: Over 31 million inhabitants, of which 35% are younger than 15 years old.
Language: In addition to classic Arabic -- the official language used in education, government and the media -- the basic everyday spoken languages are the Berber Arabic dialects spoken throughout the region. Many Algerians also speak French.
Religion: Sunni Islam is the state religion, with 99% of Algerians following this faith. There is a very small minority Christian and Jewish population.
Government: The republic of Algeria has been independent from French rule since 1962. It has had a constitution in effect since 1976, and a socialist legal system based on French and Islamic law. The Executive Branch of the Algerian government consists of an elected president who serves a five-year term (the last election was held in 2004), a prime minister who is appointed by the president and a council of ministers appointed by the prime minister. The Legislative Branch consists of the National People's Assembly and the Council of Nations. The People's Assembly has 389 members, elected by popular vote for five-year terms. The Council of Nations has 144 members, 48 of whom are appointed by the president, with the rest elected indirectly. The Judicial Branch consists of the Supreme Court.
Executive (President or King): President Abdelazia Bouteflika
Capital: Algiers
Flag:

Currency: The Algerian currency is the Algerian dinar (DA), which is divided into 100 centimes. There are 5, 10, 20, 50, 100 and 200 dinar notes and 1, 5 and 10 dinar coins, as well as 5, 10, 20 and 50 centime coins. The exchange rate in January of 1997 (the time of the BikeAbout ride) was approximately 57 DA for every $1.



Find out how many Algerian dinars there are in your local currency!
Resources and Industry: Algeria is a major petroleum and natural gas exporter, supplying these resources to several western European countries and the US. It also has a significant mining industry and a growing agricultural base (Algeria was once known as "the breadbasket of the Roman empire").
Transport: 104,000 km (64,584 mi) of road; 4,820 km (2,993 mi) of train tracks.
Electric current: 220 volts (110 volts in some areas).
Time Zone: GMT +1 hour
Sources: CIA World Factbook 2000, ArabNet, AfricaNet
Web Links
Note: The opinions expressed in these sites do not necessarily reflect the opinions of BikeAbout. If you have seen a Web site that you think BikeAbout participants would be interested in, please send the URL to links@bikeabout.org. We'll review the site and consider adding it to our resource library.
Basic country profile information.
A comprehensive Middle Eastern portal. Provides information on the Middle Eastern economy and business sectors, along with politics, tourism, culture, legal issues, health, entertainment and sports. News items, in-depth reports and analysis on all these topics are undertaken daily. Includes a keyword search facility. Available in English and Arabic.
This report was inspired by the BikeAbout journey. Also available in French.
General information. [French]
General information. [French]
School directory, general country information. Compiled by WorldWide Classroom.
General information, local time, map.
General information.
Government, history, geography, transportation, culture and descriptions of Algeria's major cities.
Historical overview, maps, travel facts, culture, environment, attractions. The "Off the Beaten Track" feature is especially interesting. Brought to you be Lonely Planet.
From DeLorme Mapping (1991). Used by permission.
Geared toward tourism, this site includes descriptions of Algeria's cities and archaeological sites. Winner of the Luckman 4 Star Award.
Weather in Algiers. Source: USAToday.
---
---
Copyright 1997-2004 BikeAbout. All rights reserved.