BikeAbout the Mediterranean: Monaco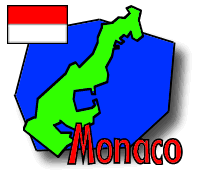 BikeAbout-the Mediterranean was a nine-month, 11,000-kilometer circumnavigation of the Mediterranean Sea... by bicycle. The BikeAbout team visited Monaco on June 1, 1998. To read about what happened, see any of the following trip dispatches:
May 31 - June 1, 1998, Valbonne, France

Topics: tapenade (food), Monaco, Grimaldi family, French Riviera, more rain, Menton, Côte d'Azur, Monaco, Cannes
In addition to reading these dispatches, we encourage you to visit these resources:
BikeAbout Monaco Scrapbook

Photos and sounds gathered by the BikeAbout team; maps of Monaco coast.

About Monaco

Basic facts about Monaco's government, economy, and people; links to other sources of information on the 'Net. Compiled by BikeAbout.
---
---

Internet access and Web hosting while in Monaco were provided by I-Link.
Copyright 1998-2004 BikeAbout. All rights reserved.