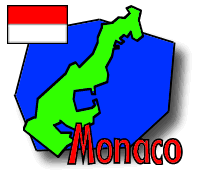 About Monaco
Official Name: Principality of Monaco (Principauté de Monaco)
Location: Monaco is located in southern Europe (just below the 44th parallel, North). It is bordered on the southwest by the Mediterranean Sea. France is the only country with which Monaco shares a border.
Land Area: 1.9 sq km (0.73 sq mi).
Coast: 4.1 km (2.5 mi) of coastline on the Mediterranean Sea.
Climate: Monaco has a Mediterranean climate with mild, wet winters and hot, dry summers.
Population: Less than 32,000 inhabitants, of which 15% are younger than 15, and 62% are between 15 and 64 years old.
Language: French is the official language of Monaco, but English and Italian are widely spoken. Many residents speak Monégasque, a traditional local French dialect.
Religion: Most Monacans are Roman Catholic, the official religion of the principality.
Government: Monaco is a constitutional monarchy that has been ruled by the House of Grimaldi since independence in 1419 (and for over a century before that!) and has close ties to France. The Prince is the head of state and appoints a minister of state from a list of French national candidates presented by the French government. The Prince and Minister of State are advised by the Council of Government. The Legislative Branch consists of the 24-member, popularly elected National Council (Conseil National). The Judicial Branch consists of the Supreme Court (Tribunal Suprème). The Monacan legal system is based on French law.
Executive (President or King): Prince Rainier III; Minister of State Patrick Leclercq
Capital: Monaco
Flag:

Currency: On January 1, 2002, the sole currency of most member countries of the European Union, including France and Monaco, became the euro (€), available in notes worth 5, 10, 20, 50, 100, 200 and 500 euro, and coins worth 1 and 2 euros, and 1, 2, 5, 10, 20, and 50 cents (100 cents equal to one euro). Monaco's previous currency was the French franc (F), which was divided into 100 centimes. There were 20, 50, 100, 200 and 500 franc notes, as well as 5, 10, and 20 centimes and ½, 1, 2, 5, 10, and 20 franc coins. The exchange rate was approximately 5.4 French francs (F) for every $1 in January of 1997 (the time of the BikeAbout journey).



Find out how many French francs there are in your local currency!
Resources and Industry: Monaco is the second smallest independent state in the world (The Vatican Holy See is the smallest). But that fact hasn't stopped Monaco from having a very strong economy, based primarily on tourism. It's casinos and resort are world-famous. Monaco has no income tax for its residents, which has attracted many wealthy people to relocate there. Monaco's customs system is fully integrated with that of France, which collects and rebates all Monacan trade duties. Most of Monaco's revenue comes from value-added taxes (VATs) on goods and services.
Transport: 50 km (31 mi) of road; 1.7 km (1 mi) of train tracks.
Electric current: 220 volts.
Time Zone: GMT +1 hour; GMT +2 hours in summer
Sources: CIA World Factbook 2000, Mediterranean Europe on a shoestring (Lonely Planet), Lonely Planet
Web Links
Note: The opinions expressed in these sites do not necessarily reflect the opinions of BikeAbout. If you have seen a Web site that you think BikeAbout participants would be interested in, please send the URL to links@bikeabout.org. We'll review the site and consider adding it to our resource library.
From the folks at Excite, this site has cultural, historical, and travel information, including weather reports and maps. Also includes links to other major sources of information about Monaco.
Historical overview, maps, travel facts, culture, environment, attractions. The "Off the Beaten Track" feature is especially interesting. Brought to you be Lonely Planet.
From DeLorme Mapping (1991). Used by permission.
School directory, general country information. Compiled by WorldWide Classroom.
Pictures, maps, and general information on history, culture, economy, sport, and travel. Also available in French.
Weather in Monte Carlo. Source: USAToday.
---
---

Internet access and Web hosting while in Monaco were provided by I-Link.
Copyright 1997-2004 BikeAbout. All rights reserved.