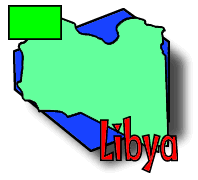 About Libya
Official Name: Socialist People's Libyan Arab Jamahiriya (Al Jumahiriyah al Arabiyah al Libiyah ash Shabiyah al Ishtirakiyah)
Location: Morocco is located in North Africa (21st parallel, North), between Tunisia and Egypt. It is bordered on the north by the Mediterranean Sea, on the west by Tunisia and Algeria, on the south by Niger and Chad, and on the east by Sudan and Egypt.
Land Area: 1,759,540 sq km (679,182 sq mi).
Coast: 1770 km (1100 mi) of Mediterranean coast.
Climate: Coastal Libya has a sometimes humid Mediterranean climate, with average temperatures of 30°C (86°F) in the summer and 8°C (46°F) in the winter. Southern Libya has a desert climate.
Population: Over 5 million inhabitants, of which 36% are younger than 15 years old.
Language: Arabic is the primary language of Libya, but Italian and English are also widely spoken in the major urban areas.
Religion: 97% of the Libyan population is Sunni Muslim.
Government: According to the Libyan constitution, Libya is a "jamahiriya" (governed by the masses), with local councils representing the wishes of the people. The peoples' committees elect representatives to the General Peoples' Congress, which in turn elects a Secretary to serve as the head of government. In practice, Libya has been ruled by Revolutionary Leader Gen. Muammar Abu Minyar al-Qadhafi since 1969.
Chief of State: Colonel Muammar Abu Minyar al-Qadhafi
Capital: Tripoli
Flag:

Currency: The Libyan currency is the Libyan dinar (LD), which is divided into 1,000 dirhams. The exchange rate was approximately 0.4 Libyan dinars for every $1 in January of 1997 (the time of the BikeAbout journey).
Resources and Industry: Libya is a major petroleum and natural gas exporter, supplying these resources to several western European countries. However, agriculture is the primary occupation in Libya. Droughts have forced reliance on desalinization of sea water for irrigation. Agricultural products include citrus fruits, wheat, olives, figs and dates, but the single most important field crop is fodder for livestock.
Transport: 83,200 km (51,667 mi) of road.
Electric Current: 240 volts
Time Zone: GMT +2 hours
Sources: CIA World Factbook 2000, ArabNet, AfricaNet
Web Links
Note: The opinions expressed in these sites do not necessarily reflect the opinions of BikeAbout. If you have seen a Web site that you think BikeAbout participants would be interested in, please send the URL to links@bikeabout.org. We'll review the site and consider adding it to our resource library.
Very good historical overview.
A comprehensive Middle Eastern portal. Provides information on the Middle Eastern economy and business sectors, along with politics, tourism, culture, legal issues, health, entertainment and sports. News items, in-depth reports and analysis on all these topics are undertaken daily. Includes a keyword search facility. Available in English and Arabic.
Links to country indexes, news, pictures, and Middle Eastern recipes.
Government, history, geography, transportation, culture and descriptions of Libya's major cities.
Historical overview, maps, travel facts, culture, environment, attractions. The "Off the Beaten Track" feature is especially interesting. Brought to you be Lonely Planet.
General information, archaeological sites, Mediterranean coast.
General information, including map, weather forecast, and a picture gallery. LookSmart Editor's Choice award winner.
Comprehensive list of links to historical, cultural and current events information about Libya
General information on agriculture, travel, politics, business, culture and history.
General information, local time, map.
From DeLorme Mapping (1991). Used by permission.
Geared toward tourism, this site includes descriptions of Libya's cities and wilderness areas.
Weather in Tripoli. Source: USAToday.
---
---
Copyright 1997-2004 BikeAbout. All rights reserved.