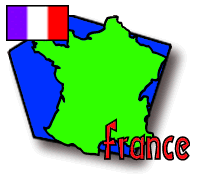 About France
Official Name: French Republic (Republique Française)
Location: France is located in southern Europe (below the 50th parallel, North). It is bordered on the west by the Atlantic Ocean, on the north by the English Channel, and on the south by the Mediterranean Sea. It touches Belgium and Luxembourg to the north, Germany, Switzerland, and Italy to the east, and Spain, Monaco and Andorra to the south. It includes the island of Corsica and several overseas administrative districts (not included in the information shown here).
Land Area: 545,630 sq km (210,613 sq mi).
Coast: 3,427 km (2,128 mi) of coastline on the Atlantic Ocean and Mediterranean Sea.
Climate: The Mediterranean coastal region visited by BikeAbout on their journay through France has a Mediterranean climate with mild, wet winters and hot, dry summers.
Population: Almost 59 million inhabitants, of which 19% are younger than 15, and 65% are between 15 and 64 years old.
Language: French is the official language of France, although much of the population speaks at least one other language (as is typical in Western Europe), often English.
Religion: The majority in France is Roman Catholic, although there are significant minority Protestant, Jewish, and Muslim communities.
Government: France is a republic. The Executive Branch consists of a popularly-elected president, a prime minister appointed by the President, and a Council of Ministers appointed by the president on the advice of the prime minister. The Legislative Branch consists of the Parliament (Parlement), which is divided into the 321-member Senate (Sénat) and 577-member National Assembly (Assemblée Nationale). The Senate is elected by an electoral college, with seats reserved for representatives of overseas departments and French nationals living abroad. Assembly members are elected under a single-member majoritarian system. The Judicial Branch consists of the Supreme Court of Appeals (Cour de Cassation), with judges nominated by the High Council of the Judiciary and appointed by the president.
Executive (President or King): President Jacques Chirac
Capital: Paris
Flag:

Currency: On January 1, 2002, the sole currency of most member countries of the European Union, including France, became the euro (€), available in notes worth 5, 10, 20, 50, 100, 200 and 500 euro, and coins worth 1 and 2 euros, and 1, 2, 5, 10, 20, and 50 cents (100 cents equal to one euro). France's previous currency was the French franc (F), which was divided into 100 centimes. There were 20, 50, 100, 200 and 500 franc notes, as well as 5, 10, and 20 centimes and ½, 1, 2, 5, 10, and 20 franc coins. The exchange rate was approximately 5.4 French francs (F) for every $1 in January of 1997 (about the time of the BikeAbout journey).



Find out how many French francs there are in your local currency!
Resources and Industry: France has a number of natural resources, chief among them coal and iron ore. Consequently, iron and steel products and manufactured goods account for much of the French economy and France is considered one of the most highly industrialized countries in the world. Agriculture is also important to the French economy. In addition to wineries that set the standard for quality around the world, France sports one of the world's largest annual fish catches. And lest we forget, tourism is a very iomportant part of the French economy, particularly in the Mediterranean region through which BikeAbout will travel.
Transport: 965,916 km (599,834 mi) of road; 31,770 km (19,729 mi) of train tracks.
Electric current: 220 volts.
Time Zone: GMT +1 hour
Sources: CIA World Factbook 2000, Mediterranean Europe on a shoestring (Lonely Planet), Lonely Planet, City.Net France, French Ministry of Foreign Affairs
Web Links
Note: The opinions expressed in these sites do not necessarily reflect the opinions of BikeAbout. If you have seen a Web site that you think BikeAbout participants would be interested in, please send the URL to links@bikeabout.org. We'll review the site and consider adding it to our resource library.
From the folks at Excite, this site has cultural, historical, and travel information, including weather reports and maps. Also includes links to other major sources of information about France.
Historical overview, maps, travel facts, culture, environment, attractions. The "Off the Beaten Track" feature is especially interesting. Brought to you be Lonely Planet.
School directory, general country information. Compiled by WorldWide Classroom.
From DeLorme Mapping (1991). Used by permission.
Geography, history, economy, society, culture, foreign policy, news. Available in French and Spanish.

Relief Map of France (large)

From the University of Texas online map collection. [996x1056 pixels]

Roman and Romanesque Monuments of Arles (UNESCO World Heritage Site) [also available in French]

Weather in Nice. Source: USAToday.
Weather forecast for Cannes.
Weather forecast for Montpellier.



CYCLING SITES:

Cycling List [BikeAbout resource, includes listings for cycling organizations in France]
---
---

Internet access and Web hosting while in France were provided by I-Link.
Copyright 1997-2004 BikeAbout. All rights reserved.