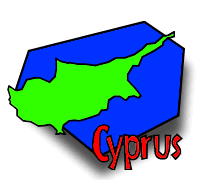 About Cyprus
Official Name: Republic of Cyprus (NB: The area under Turkish-Cypriot control refers to itself as the "Turkish Republic of Northern Cyprus")
Location: Cyprus is located in the eastern part of the Mediterranean Sea, south of Turkey and west of Syria.
Land Area: 9,250 sq km (3,570 sq mi), 3,355 sq km of which (1,295 sq mi) are in the Turkish area.
Coast: 648 km (402 mi) of Mediterranean coast.
Climate: Cyprus has a Mediterranean climate, with cool, wet winters and hot, dry summers.
Population: Just over 758,000 inhabitants, of which 23% are younger than 15 and 66% are between 15 and 64 years old.
Language: In southern Cyprus, Greek and English are spoken by most of the population. In the Turkish Cypriot-controlled north, Turkish is the primary language.
Religion: Most Greek Cypriots belong to the Greek (Cypriot) Orthodox Church, while most Turkish Cypriots are Muslim. There are a few minority religious communities, as well, including Maronite and Armenian Apostolic groups.
Government: Cyprus is a republic, with the southern Cyprus government being the only officially recognized government by most of the international community. The Turkish Cypriots have controlled northern Cyprus since the 70s. They declared independence from southern Cyprus in 1983. The northern Cyprus government is recognized by Turkey. The southern Cyprus government consists of the popularly elected president and a Council of Ministers appointed by the president and vice president (a post reserved for a Turkish Cypriot under the Cypriot constitution). The Cypriot House of Representatives (Vouli Antiprosopon) consists of 80 members, with 56 (the majority) reserved for Greek Cypriots and the rest reserved for Turkish Cypriots. The Judicial Branch consists of the Supreme Court. A similar system is in place in northern Cyprus. The northern Cypriot legislature is the 50-member, popularly elected Assembly of the Republic (Cumhuriyet Meclisi).
Executive (President or King): President Tassos Papadopoulos (NB: Rauf R. Denktash has been president of the Turkish Cypriot-controlled north in 1975)
Capital: Nicosia (NB: the Turkish Cypriots have declared Lefkosa (Nicosia) to be their capital)
Currency: The southern Cypriot currency is the Cypriot pound (£C), which is divided into 100 cents. The northern Cypriot currency is the Turkish lira (TL), which is divided into 100 kurus. The exchange rate was just under 0.5 Cypriot pound (£C) for every $1 and just over 112,000 Turkish lira (TL) for every $1 in January of 1997 (the time of the BikeAbout journey). High inflation in Turkey causes rapid changes in the exchange rate for Turkish lira.



Find out how many Cypriot pounds or Turkish lira there are in your local currency!
Resources and Industry: Cyprus gets its name from the Greek word for copper, and it counts copper and other ores among its natural resources. However, tourism is the major industry in Cyprus. Agricultural products are also important to the economy. Citrus, potatoes, grapes, and wine are all exported by southern Cyprus to Russia, Britain, Greece and Germany. Turkey and Britain are the primary trading partners for northern Cyprus.
Transport: 10,663 km (6,622 mi) of road in southern Cyprus; 2,350 km (1,459 mi) in the Turkish north.
Electric current: 240 volts.
Time Zone: GMT +2 hour
Sources: CIA World Factbook 2000, Mediterranean Europe on a shoestring (Lonely Planet), Lonely Planet
Web Links
Note: The opinions expressed in these sites do not necessarily reflect the opinions of BikeAbout. If you have seen a Web site that you think BikeAbout participants would be interested in, please send the URL to links@bikeabout.org. We'll review the site and consider adding it to our resource library.
A comprehensive Middle Eastern portal. Provides information on the Middle Eastern economy and business sectors, along with politics, tourism, culture, legal issues, health, entertainment and sports. News items, in-depth reports and analysis on all these topics are undertaken daily. Includes a keyword search facility. Available in English and Arabic.
Historical overview, maps, travel facts, culture, environment, attractions. The "Off the Beaten Track" feature is especially interesting. Brought to you be Lonely Planet.
---
---
Copyright 1997-2004 BikeAbout. All rights reserved.