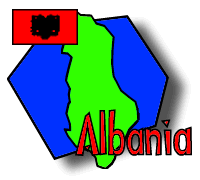 About Albania
Official Name: Republic of Albania (Republika e Shqiperise)
Location: Albania is located in southeastern Europe (above the 40th parallel, North). It is bordered on the west by the Adriatic Sea. It touches Yugoslavia (Montenegro) to the north and east, Macedonia to the east, and Greece to the south and east.
Land Area: 27,400 sq km (10,576 sq mi).
Coast: 362 km (225 mi) of Adriatic coast.
Climate: Albania has a mild climate, with cool, wet winters and hot, dry summers.
Population: Over 3 million inhabitants, of which 30% are younger than 15 years old.
Language: There are two main dialects of Albanian spoken in Albania: the Gheg dialect of central and northern Albania and the southern Albanian Tosk dialect. The Tosk dialect has been adopted as the official language of Albania. Many Albanians also speak Greek; Italian and English are also widely spoken.
Religion: The Muslim faith predominates in Albania. Albanian Orthodox and Roman Catholic faiths are practiced by most of the rest of the population. From 1967 to 1990 (under Communist rule), religious observance was banned.
Government: Albania is now a democracy, after many years of communist rule. The first democratic elections were held in 1991, and an Albanian constitution was adopted in 1998. Albania has a three-branch government: an Executive Branch, consisting of the President, Prime Minister, and a Council of Ministers; the Legislative Branch, consisting of the 140-member People's Assembly (Kuvendi Popullor); and the Judicial Branch, consisting of the Supreme Court.
Executive (President or King): President Alfred Moisiu
Capital: Tirana
Flag:

Currency: The Albanian currency is the lek (L), which is divided into 100 qintars. The exchange rate was approximately 160 leke (L) for every $1 while BikeAbout was in Albania.



Find out how many leks there are in your local currency!
Resources and Industry: Albania exports a variety of metal ores and agricultural products (including copper and timber) to Italy, Greece and Germany. Albania is the world's third-largest producer of chrome. It imports machinery, grains, and consumer goods. Years of ill-advised industrial practices have seriously damaged the environment, and rebuilding the economy is one of the major challenges that will be faced by Albania in the next few years.
Transport: 18,000 km (11,178 mi) of road; 670 km (416 mi) of train tracks.
Electric current: 220 volts.
Time Zone: GMT +1 hour
Sources: CIA World Factbook 2000, Mediterranean Europe on a shoestring (Lonely Planet), Lonely Planet
Web Links
Note: The opinions expressed in these sites do not necessarily reflect the opinions of BikeAbout. If you have seen a Web site that you think BikeAbout participants would be interested in, please send the URL to links@bikeabout.org. We'll review the site and consider adding it to our resource library.
Learn about the development of Albanian "Internetworking." You'll find more about this topic at the OSI-IP (Internet Program) Web site.
Albanian history, culture, news, maps, language. LookSmart Editor's Choice, Magellan 3 Star Site, Point Top 5%, and Culture Choice award winner.
Business, travel, history, culture, language, city guide, and news from Albania. An EUWN Best Site.
"ALBANEWS is a mailing list dedicated to the distribution of news and information related to Albania, Kosova, the Albanian populated regions in FYR of Macedonia and Montenegro, as well as the Albanian diaspora world-wide."
Brought to you by the folks at ABC News, this special report includes basic information about the Balkan countries, a timeline of events, profiles of Balkan leaders in the news, maps, and more to help people understand events in this region as they unfold.
Read about the history of and archaeological efforts in Butrint.

Butrinti (UNESCO World Heritage Site) [also available in French]

Historical overview, maps, travel facts, culture, environment, attractions. The "Off the Beaten Track" feature is especially interesting. Brought to you be Lonely Planet.
An Albanian Immigrant and Cultural Resource. Resources include a message board, news releases, advisories, maps, and folktales & recipes. An area for Albanians is available in Albanian.
News and information about the ethnic Albanian crisis in Kosovo, Yugoslavia. Other information about events in Kosovo can be found at ARTA News Agency and Kosovo Information Center.
From DeLorme Mapping (1991). Used by permission.
"Open Internet Center offers free Internet Acces for the Academic and University Networks and has opened First Cyber Cafe in Albania."
From the University of Texas online map collection. [994x1256 pixels]
Weather forecast for Tirane.



CYCLING SITES:

Cycling List [BikeAbout resource, includes listings for cycling organizations in Albania]
---
---
Copyright 1997-2004 BikeAbout. All rights reserved.