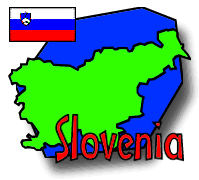 About Slovenia
Official Name: Republic of Slovenia (Republika Slovenije)
Location: Slovenia is located on the Balkan Peninsula of Southeastern Europe (about the 46th parallel, North). It is one of the republics that gained independence from Yugoslavia in the early 90s. It has a short coastline on the Adriatic and is bordered by Italy to the west, Austria to the north, Hungary to the east, and Croatia to the south.
Land Area: 20,253 sq km (7,818 sq mi).
Coast: 47 km (29 mi) of Adriatic coastline.
Climate: Slovenia's coastal region has a Mediterranean climate, with mild, wet winters and hot, dry summers. The inland region has a continental climate, with cold winters and mild to hot summers.
Population: Almost 2 million inhabitants, of which 16% are younger than 15, and 69% are between 15 and 64 years old.
Language: Slovene is the principal language of Slovenia. Most Slovenians are at least bilingual. Among the other languages spoken in Slovenia are Croatian, Serbian, German, English, and Italian.
Religion: Most Slovenians are Roman Catholic, but there are minority Protestant, Muslim, and Eastern Orthodox populations.
Government: Slovenia has been working to build a democracy since it gained independence from Yugoslavia in 1991. The Executive Branch consists of a popularly elected president, a prime minister, and a Council of Ministers; the Legislative Branch consists of the 90-member National Assembly (Drzavni Zbor); and the Judicial Branch consists of the Supreme Court and the Constitutional Court. The prime minister is nominated by the president and elected by the National Assembly, and is usually the leader of the majority party of the National Assembly or a majority coalition in the Assembly. The Council of Ministers is nominated by the prime minister and elected by the National Assembly. 40 Assembly members are elected by popular vote, with the rest selected based on proportional representation. Supreme Court justices are recommended by the Judicial Council and elected by the National Assembly; Constitutional Court justices are nominated by the president and elected by the National Assembly
Executive (President or King): President Janez Drnovsek; Prime Minister Anton Rop
Capital: Ljubljana
Flag:

Currency: The Slovenian currency is the tolar (SlT), which is divided into 100 stotins. There are 10, 20, 50, 100, 200, 500, 1000, 5000, and 10000 tolar notes, as well as 50 stotin and 1, 2, and 5 tolar coins. The exchange rate was approximately 141 tolar (SlT) for every $1 in December of 1996 (about the time of the BikeAbout journey).



Find out how many Slovenian tolars there are in your local currency!
Resources and Industry: Slovenia's economy has been recovering since the breakup of Yugoslavia in the early 90s. The economy relies heavily on industrial production, particularly metal processing and products, chemicals and machinery. Slovenia's agricultural production, while minor compared to its industrial base, is nearly sufficient to provide food for the country's population.
Transport: 14,760 km (9,166 mi) of road; 1,201 km (746 mi) of train tracks.
Electric current: 220 volts.
Time Zone: GMT +1 hour; observes daylight savings time
Sources: CIA World Factbook 2000, Mediterranean Europe on a shoestring (Lonely Planet), Lonely Planet
Web Links
Note: The opinions expressed in these sites do not necessarily reflect the opinions of BikeAbout. If you have seen a Web site that you think BikeAbout participants would be interested in, please send the URL to links@bikeabout.org. We'll review the site and consider adding it to our resource library.
Brought to you by the folks at ABC News, this special report includes basic information about the Balkan countries, a timeline of events, profiles of Balkan leaders in the news, maps, and more to help people understand events in this region as they unfold.
"64 pictorial maps of Slovenia, NE Italy and Croatia and some suggestions for guided tours." Cartoons. Also available in Slovenian.

Bohinj [Slovenian]

A virtual tour of Bohinj, in the Karst region of Slovenia. Topics include nature, sports, and culture. Events schedules and tourism information. Also available in English, Italian, and German.
Links to information about and from the republics of the former Yugoslavia, gathered by Association des Etats Généraux des Etudiants de l'Europe (AEGEE).
"In November 1996, the Human Rights Working Group in AEGEE, the East-West Working Group of AEGEE-Enschede and AEGEE-Maribor organised a Case Study Trip (CST) to former Yugoslavia." This site documents their trip and presents their findings.
General information and features on daily life and politics.
From the folks at Excite, this site has cultural, historical, and travel information, including weather reports and maps. Also includes links to other major sources of information about Slovenia.
Historical overview, maps, travel facts, culture, environment, attractions. The "Off the Beaten Track" feature is especially interesting. Brought to you be Lonely Planet.
This site shows you five short biking trails around Slovenia, with maps and short descriptions.
Searchable index. Topics include tourism, entertainment, science, education, sports, economy, and culture.
Clickable points of interest linked to descriptions.
A virtual tour of Ljubljana, with pictures and an interactive map of the city center.
Index of arts and culture Web sites in Slovenian and English, from mainstream to underground.
From DeLorme Mapping (1991). Used by permission.
"The Metelkova Development Plan (MDP) is a 50 page proposal for the conversion of the ex-military barracks complex of Metelkova into a center of Independent & non-institutional art & culture for Slovenia."
A collection of links to MPEG audio files, including the Slovenian national anthem.
Neue Slowenische Kunst (NSK) is a unique project that encourages artistic expression in the pursuit of a borderless worldwide collective of the avant-garde.
The Ro Programme is linking Slovenian schools using the Internet and providing technology training and resources to Slovenian schools. Site includes a list of schools in Slovenia with online capability.

Skocjan Caves (UNESCO World Heritage Site) [also available in French]

From the folks at Virtual Slovenia.
From the Hoteli Turizem Gostinstvo (HTG) Web site.
About the Slovene alphabet, links to Slovene character sets and Slovene/English dictionaries.
A kozolec is used to dry and store hay and grain. This site describes kozolec architecture in detail, including technical specifications and photographs.
A Collection of pages about Slovenia, available in English and Slovenian, with some German available. Topics include:
Ljubljana Outdoor Museum (Ljubljana kot muzej na prostem)
Slovenia Land Of Waterfalls (Slapovi Slovenije)
Triglav National Park (Triglavski narodni park)
Virtual guide: Slovene seaside (Slovenska obala)
Welcome to Bled (Vabljeni na potep po Bledu)
Welcome to Kamnik (Vabljeni na potep po Kamniku)
Virtual Slovenia©. General country information, maps, online resources, search engine. NetGuide Gold Site, Magellan 4 Star Site, WebScout Way Cool Site, and World Wide Web Associates Top 10 Sites award winner.



CYCLING SITES:

Cycling List [BikeAbout resource, includes listings for cycling organizations in Slovenia]
KOLOLJUB
Maribor Cyclists' Network (Mariborska kolesarska mreza - MKM)
---
---

Internet access and Web hosting while in Slovenia were provided by K2 Net.
Copyright 1997-2004 BikeAbout. All rights reserved.