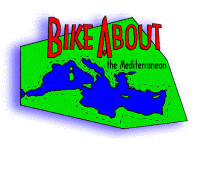 BikeAbout Log
BikeAbout concluded their journey in Gibraltar at the end of June, 1998. We are working on reports for their visit to Gibraltar, which will be posted here when they are complete. In the meantime, you may click here for an end-of-trip message from the team, written in Gibraltar. We hope you will view the trip so far, starting with our first report -- from Morocco, or go to the Mediterranean Journey home page and choose another place to visit.
---
---

Internet access and Web hosting while in Gibraltar has been provided by Nova Internet.
Copyright 1997-2004 BikeAbout. All rights reserved.